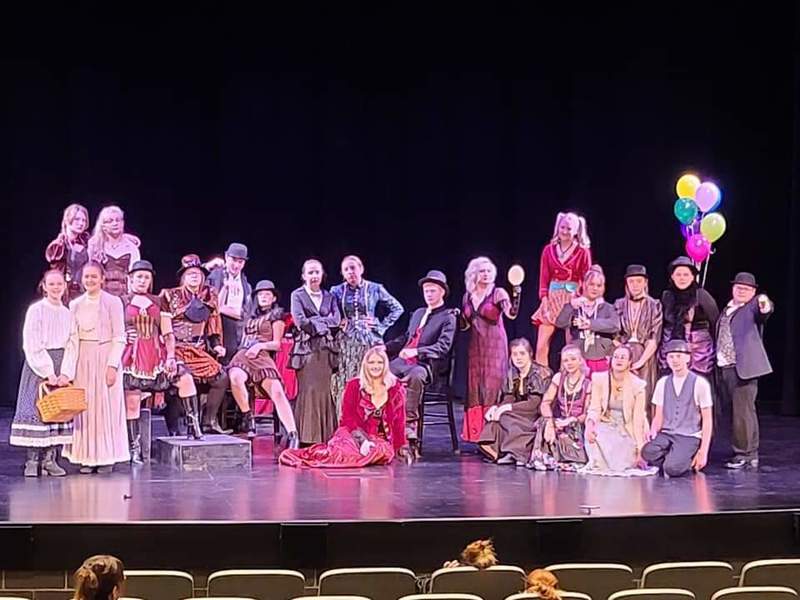 L to R: Alora Berke, Hannah Scholand, Amy Draxton, Cheyenne Tandberg, Maddi Thompson, Nyssa Lemay, Kayden Kobel, Ivy Wolf, Paige Handley, Kylie Carpenter, Chonda Cooper, Adam Bina, Amara Howson, Chloe Bilden, Sydney Jacobson, Kelly Anderson, Syvia Houziaux, Jaida Vivier, Daisee Boot, Spencer Boe, Faith Carey, and Brayden Irvine

Lights went out, silence rolled over the crowd, and spotlight illuminates Mad Aggie, Chonda Cooper. The scene is set and the play has begun.
The play was an entertaining story about orphans and runways who work as thieves for The Professor. The Professor ran a pawn shop with two loathsome assistants. Out for revenge is Mad Aggie. She seeks to give back to the Professor a little bit of the pain he caused her.
Starting back in August, our One-Act Play cast worked endlessly mastering the play The Penny Dreadfuls. They came in before school to prepare for the big show. There were three showings held at Northwood's Performing Arts Center with the final show contending in the regional competition in hopes of making it to state. With ten area schools coming to Northwood, everyone was ready to give their best theatrical performance. After a long, wonderful day of talented performances, the judges' minds were made: taking the Regional Championship and heading to state is Central Valley, placing second was May-Port CG, and Hatton-Northwood took third. Adam Bina won an honorable mention award in his role as The Professor. Chonda Cooper won an outstanding actor award as Mad Aggie. Judges commended the entire cast on their ensemble work.
It was a great day seeing everyone shine on stage! The actors and actresses emerged into new characters and showed what creativity and hard work can do. Congrats to Hatton-Northwood on your third-place finish!